Get Complete Details On What Is Payment Gateway, How It Works, And What Are The Top 10 Best Payment Gateway Service Providers In The World.
What Is Payment Gateway?
Being an e-commerce store owner you know the importance of providing good user interface and functionalities in your website or app, but if the payment experience is not good then? Eventually, customers stop trusting us and the sales and customer engagement will drop. The payment gateway plays an important role in the customer buying experience, the good payment gateway should be smooth, fast, secure and trustworthy.
The best payment gateway ensures the security and confidentiality of the customer leaving a good impression and trustworthiness on the e-commerce website or app. A functional payment gateway should allow merchants to accept multiple transactions facility (debit cards, credit cards, wallets, etc.) securely on the website as well as a mobile app.
The payment gateway in an e-commerce store should set up in right manner, if it's not properly functional, your business could suffer from cart abandonment due to payment gateway issues, that leads to loss of customer and sales. Ensuring a functional payment gateway set up with multiple forms of payment options (debit, credit cards, wallets, etc.) with trusted security certificates and symbols is the key for long term success of your online e-commerce store.
List Of Payment Gateway Providers
How Does A Payment Gateway Work?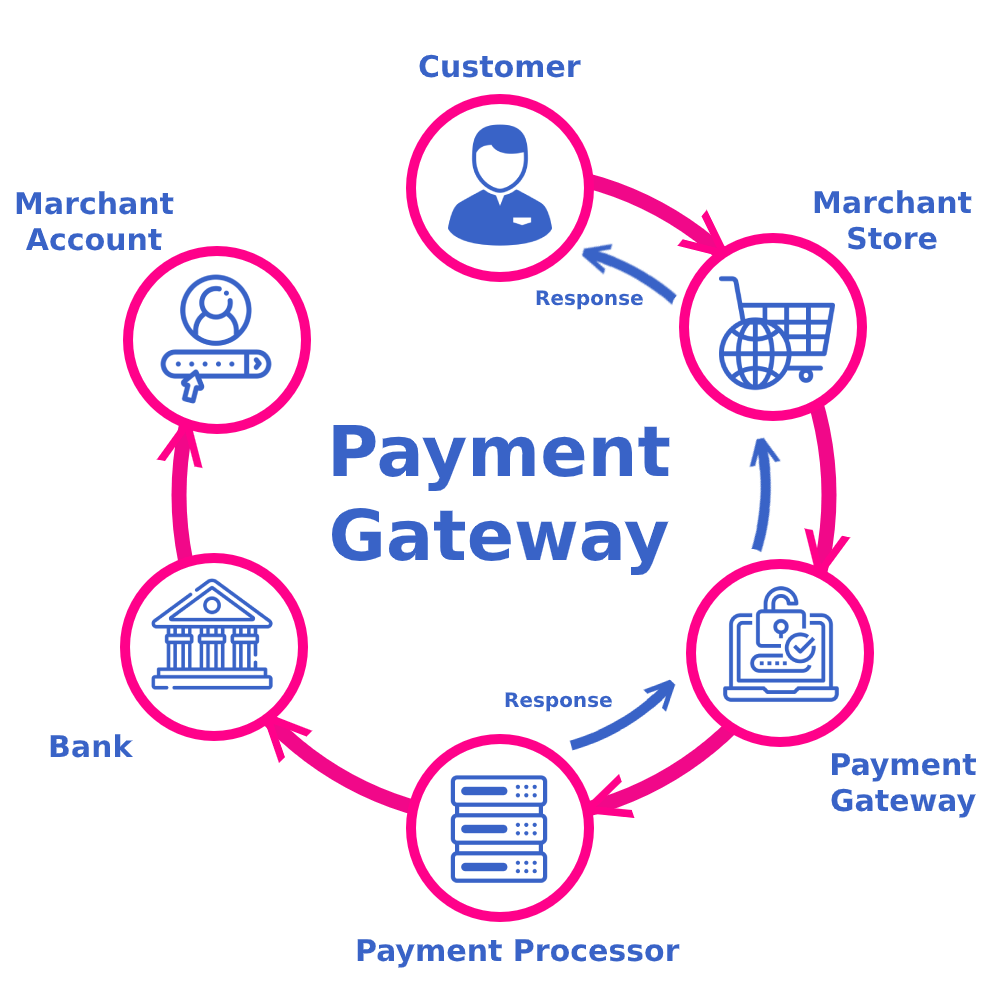 The customer adds products or services to the cart that they want to buy and proceed with the payment page.
The customer is then asked to provide the details of the credit card or debit card. These details include 16 digit card number, cardholder name, expiration date and CVV number.
After submitting, the information is securely passed on to your payment gateway, based on the integration type i,e. Server-to-server, payment page integration or client-side encryption.
The payment gateway then encrypts the card details and go through a security check before sending the card information to acquiring bank.
The acquiring bank sends the information securely to the card schemes i,e. Visa, Mastercard, Maestro card, etc.
The card schemes ensure another layer of security check and then send the payment information to issuing bank. After performing the security and fraud check, the issuing bank authorises the transaction. The approval or decline message is sent back to the bank from the card schemes, then to the acquirer.
The acquiring bank then sends the approval or decline message to the payment gateway who then sends the message to the merchant. If the payment is successful then the acquirer collects the payment amount from the issuing bank and holds the funds in the merchant account. Based on the message from the payment gateway, the merchant may either display order or payment confirmation page or ask the customer to retry with other payment methods. The best payment gateway provides smooth transactions and the process happens in the background in real-time and the whole procedure takes less than three seconds to complete.
What To Consider When Choosing A Payment Gateway?
Choosing the best payment gateway provider for your eCommerce website is a tedious process. While choosing, you should ensure that customer payment experience is smooth, fast and secure. This helps to increase the trust among the customers and come back to purchase other products or services in future.
Here are four factors to consider before selecting the payment gateway:
Security
The payment gateway security standards should meet minimum with integrated 3D secure and comply with the PCI Data Security Standard. This ensures minimum protection against fraudulent or hacking activities.
Ease Of Website Integration
Make sure that the payment gateway integration is simple and also check whether the customer support is good. If we face any issues it should be easily and quickly resolved without hassle with the help of the customer support team.
Payout Time
The best payment gateway service providers reasonable timeframe for the payouts. Check the payout time frames before integration. The average payout could be weekly or bi-weekly, and also varies from company to company.
Multi-Currency
If your business is global, then make sure your payment gateway providers support multi-currency payments, as people around the world use different currencies, you should be ready to accept different currencies with ease.
List Of Top 10 Payment Gateways – Global Payment Gateways
1. PayPal
Paypal is an eCommerce payments platform designed to help people and companies to send and receive payments without providing financial information. It is one of the top-rated payment gateways that allow users to send or receive payments across the globe with just email address instantly.
It is very easy to buy or sell using your mobile phones on any merchant website or app. Paypal operates in 203 countries and it supports widely used credit cards like Visa, Mastercard, Citibank, American Express, etc.
Features:
PCI compliance
Inventory tracking
Shopping cart
Virtual terminal
Credit card reader
Express checkout
Mobile card reader
Barcode scanning
Online invoicing
Bill me later
2. Amazon Pay
Amazon Pay is a payment gateway designed for Amazon merchants and shoppers. It is an easy, fast and secure payment solution that helps people in 8 countries as of now. Amazon payments come with two different packages – login and pay for shoppers, and pay with Amazon for merchants.
This payment gateway is designed to provide a smooth shopping experience for both online retailers and sellers. Amazon pay is loaded with great features and tools that attract customers and encourage them to shop more, make their shopping process streamline and improve customer engagement and loyalty via saved payment details for faster checkouts.
Features:
Automatic payments
Merchant website integration
Inline checkout
Customer identity
Fraud protection
3. Skrill
Skrill is one of the well-known payment gateways around the world. Skrill understands modern payment demands when it comes to payment processing and money transferring. Skrill started in the year 2001. Now, Skrill has many top companies as their customers using their innovative solutions in their businesses.
Skrill is recognized and awarded by many top companies such as Deloitte Technology Fast 50 Award, B2B EGP Award and several others. It is one of the successful UK-based payment gateways that supports over 30 different currencies, that enables customers to purchase products and services worldwide.
Features:
Email transactions
Quick access
One place data
Free account
Supports 30 currencies
Credit card transactions
4. Stripe
Stripe is a cloud payment gateway platform that helps to accept and manage online transactions anywhere in the world. It provides complete solutions to process online payments and also offers great features like custom UI toolkit, embeddable checkout, consolidated reports and much more.
Stripe is a robust payment gateway that ensures a smooth moment of funds in your business while connecting with the application interface that enables you to prevent frauds with great security, manage revenue and drive sales globally. It also provides an open API that helps in integrating with your business ecosystem.
Features:
Mobile customer interface
Multi-currency payouts
Clean canvas
Collaboration notes
Payment options
Embeddable checkout
Authorization
Custom UI toolkit
Dispute handling
Open-source plugin
Consolidated reports
Accounting integrations
Unified payout
Financial reporting
Roles and permissions
5. 2Checkout
2Checkout is a popular global payment gateway that allows businesses to accept online payments from buyers around the globe. It has many features and localized payment options that help both merchants and customers to make the payment process streamlined.
It is the US-based payment gateway that supports multiple payment methods and transactions worldwide. It is secure and reliable, More Than 50,000 merchants using 2Checkout payment gateway worldwide. It supports 8 different payment methods, 15 languages, and 87 different currencies in global markets.
Features:
Level 1 PCI data security standard
Multiple payment options
Recurring billing
Customized checkout options
Integration with 100+ online carts and systems
Create customized subscription plans
Support – 87 currencies
Support – 15 languages
Account updater
6. Authorize.Net
Authorize.Net is a global payment gateway that provides strong infrastructure and security to ensure smooth, fast and secure transfer of transactional data. It handles the routing of transactions, albeit in an online setting without software installation, just like the card swiping machine.
It has the merchant base of over 370,000 around the world. It helps to accept payments securely, providing a streamlined experience, enables scaling and number of other value-adding features. It's a fully integrated electronic check payment system that accepts and processes payments from other bank accounts through the user's website or the Authorize.Net's virtual terminal.
Features:
E-check processing
Retail payment
Virtual terminal and batch upload
Mail/phone payment
Recurring billing
Customer information manager
Sync for quickbooks
Advanced fraud detection Suite
7. Payza
Payza is a very convenient, fast and secure payment gateway solution for businesses and people to accept and send money throughout the world. There are multiple account types for different customers like personal account for personal use and business account for business with bigger and complex requirements.
Payza payment gateway is available in 190 countries and supports 22 different currencies. It is one of the best payment gateway solutions available in many countries and bridging the gap when it comes to sending and receiving payments globally.
Features:
Centralized management
Supports 22 currencies
Request funds
Operates in 190 countries
Local payment options
Add funds and withdraw
Secure online payments
Payment buttons
Shopping cart Integration
8. SecurionPay
SecurionPay is a payment gateway that provides secure online and mobile payment solutions that support multiple operating systems like Windows, Mac, Linux, Android and iOS. It is one of the best platforms that provide a one-stop solution for companies that require online payments and offer paid subscriptions.
It's a standalone payment gateway solution that provides fast and secure integration to your business ecosystem, like embedded payment forms, advanced checkout feature allows immediate payment processing that helps to increase conversion rate. It offers flexible API so that you can integrate your business ecosystem with it and control from your side.
Features:
PCI level 1 and tokenization
One-Click payments
Custom form
Delayed capture
Subscription plan manager
Customer manager
Non-invasive 3D Secure
Trials and discounts
Minimize chargeback ratio
Anti-fraud tools
Usage/Seat-based subscriptions
Blacklisting
Retry logic
Billing models
Quick-Buy for eCommerce
Payouts to customers – OCT
Cross-sales
9. BlueSnap
BlueSnap is the global payment gateway designed to help businesses to accept payments easily. This gateway enables businesses to scale globally and accept payments from local to international customers. This platform is highly secure and builds with the fraud prevention system to minimize risks.
Bluesnap has a network of over 30+ acquiring banks, this ensures customer trust, increases conversion rate and improves revenues. It operates in 180 countries and connects automatically with acquiring banks globally. It supports 110 different payment types, 100 currencies, and 29 different languages.
Features:
Intelligent payment routing
Marketplace payments
Subscriptions
Multi-currency reporting
Hosted solutions
Hosted fields
3-D Secure and PSD2 compliance
Integrated payments
Invoice payments
Cross-channel payments
30+ global acquiring bank connections
Embedded checkout
Easy data migration
Multi-currency payouts
Secure acceptance web/mobile
Payment API
Managed risk services
Virtual terminal
Payment tokenization
Consolidated reports & analytics
Mobile apps & SDKs
Direct debit and bank transfers
Payment optimization
3rd-Party payment plugins
10. Braintree (A Paypal Service)
Braintree is a payment gateway that is part of the PayPal network. It is designed to make the payment process easier. It offers commerce tools to build global businesses, accept payments and enable commerce for their users. It has tools and features that help companies to scale their businesses worldwide.
Braintree operates in 40 countries worldwide. It supports 130 currencies and enjoys the benefits of faster and secure transactions. This ready-made sleek UI supports multiple cards or even PayPal transactions.
Features:
Drop-in UI
Supports 130 currencies
24*7 support
Customized checkout workflow
2-day payout
Dynamic control panel
Braintree value
Easy data migration
Guaranteed uptime
Advanced fraud protection
Easy repeat billing
Encryption